What's in Season: Zucchini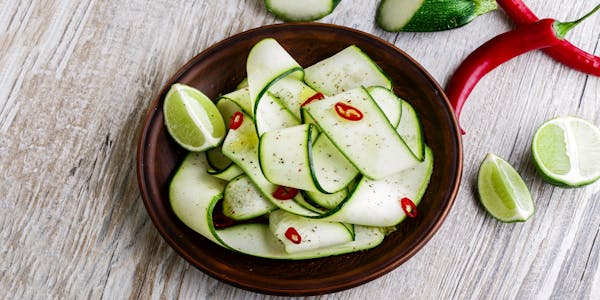 By Between The Bread on Jun 01 2016
Zucchini, also known as summer squash, is the perfect way to kick off this upcoming summer as Between the Bread's vegetable of the month. Whether they are sauteed, breaded, made into a salad, or baked in a sandwich, this diverse green vegetable makes every snack or meal all the more delightful.
Though generally harvested when around 8 inches in length, Zucchinis can actually grow over three feet long. Free of saturated fats and cholesterol, the Zucchini peel's dietary fiber has been shown to reduce constipation and lower the risks of colon cancer. Additionally, they are rich in antioxidants that help prevent the aging and disease processes and serve as a good source of potassium to reduce both blood pressure and heart rates.
Zucchini, rich in Vitamin A and Vitamin C, is the ideal addition to any dish. Aside from their health benefits, it's the delicious taste of Zucchinis that makes them so appealing this season and thus earns them the title as Between the Bread's vegetable of the month.