What's in Season: Tomatoes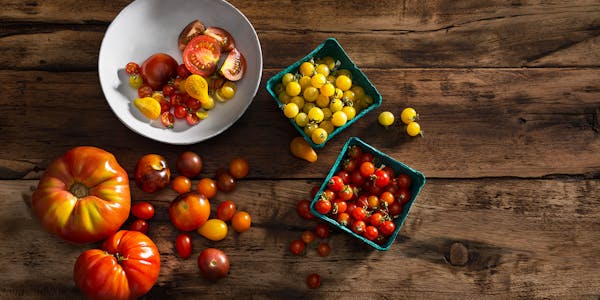 By Between The Bread on Jul 01 2016
You say tomato… we say Vegetable of the Month. It's considered both a fruit and a vegetable, but aside from the way it's improving the flavors of a variety of our featured dishes at Between The Bread this month, we love tomatoes for the authentic boost to health they give us. A time-honored staple of the Mediterranean diet, bold, red tomatoes serve-up a host of health benefits – including improved eyesight, improved fluid balance, and reduced blood pressure, inflammation and cholesterol levels. That's all before we consider the antioxidants tomatoes are rich in, including those proven to ward off different forms of cancer.
Thick, colorful and brimming with juicy goodness. It's amazing how delicious a locally sourced, fresh tomato can be, whether you're eating it raw in a salad, on a sandwich or simmered with other ingredients.
Where to get started? Take a look at the diverse ways the tomato is incorporated in this month's selections. From a finely chopped accent in our breakfast frittatas to a tasty addition to our hearty grain sandwiches and of course, the star of our seasonal plates, take a look at July's Menu and see just how Big Red ramps up the taste value of every dish we use it in this month.