What's in Season: Parsnip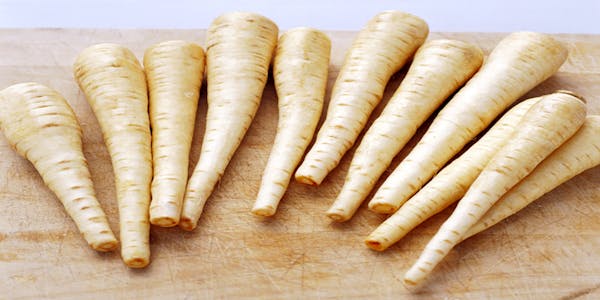 By Between The Bread on Mar 24, 2016
Parsnips are a commonly overlooked root vegetable with
great nutritional value and taste – so we decided to showcase them
parsnip as our March vegetable of the month at Between The Bread!
Parsnips contain a wide variety of vitamins, minerals, and nutrients
including dietary fiber, folate, potassium and vitamin C.
While they're closely related to carrots, parsnips actually are slightly sweeter
in taste and just as versatile. To prepare, you can cut them lengthwise and
roast them in an oven with garlic and herbs, boil and mash into a purée,
even add them to stews and soups, or just sauté in a quick stir-fry!
Come in and try our spiced parsnip salad (pictured), roasted parsnip farro salad
with olives, and roasted parsnip-quinoa salad with shallot-lemon dressing, or
our parsnip baked goods – parsnip muffins and parsnip cupcakes!