What's in Season: Eggplant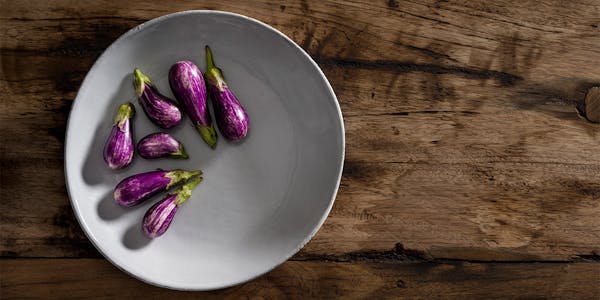 By Between The Bread on Aug 02 2016
It's officially August, which means Eggplant is back in season. Beginning in August through October, eggplants are at peak season goodness! To showcase this purple, glossy beauty, we've made eggplant this month's Vegetable of the Month.
Aside from their unique taste and spongy texture, eggplants are a great source of dietary fiber, vitamin B1, potassium and folic acid, and according to some studies, they can also help lower blood pressure and cholesterol.
Eggplant can be the star of your dish or they can play a supporting role in your meal being that they're a complementary ingredient balancing the surrounding flavors of the other more pronounced ingredients. Replace the meat in your dish with eggplant for Meatless Monday; We love this Toscana Vegetable Pie that celebrates summer vegetables.
Eggplant can be baked, roasted in the oven, or steamed. See how we incorporate them in our August Eatery Menu, from our new salads to our hearty grilled eggplant sandwich.