Our Custom-Built Trash Receptacle @ 40 Th St.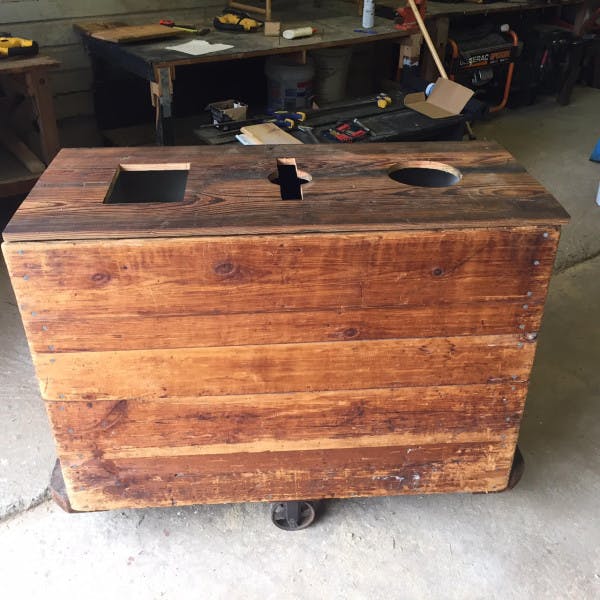 By Between the Bread on Oct 22, 2015
We've been getting a lot of compliments on one of our proudest statement pieces in the 40th St. location – our custom-built waste receptacle.
Our pride is two-fold.
First, we are proud to be switching to a 3-compartment system to include compost into our waste disposal. Your entire lunch at Between The Bread can be composted and recycled. Simply drop your compostable container (food remains and all) and silverware into the compost section of our waste bin and drop the container lid into the recycling section. Voilá!
Second, this piece was designed and built with our own bare hands on a Sunday afternoon. We have put tremendous care into every aspect of our new 40th St. location and this piece is no exception. We even wanted our trash bins to be beautiful!
Steps to a custom-built trash receptacle
#1: Happen upon an awesome antique piece
#2 Buy recycling, trash and compost bins that will fit in said awesome piece (Home Depot is your friend)
#3 Drive to a workshop on the farm but make sure goats stay out of work station
#4 Begin measurements and wood sawing, accepting the fact that goats don't follow orders
#5 Place custom wood top on the piece and finalize the details
#6 Ensure 3 compartments work for the size of products going in
Compost – Recycling – Trash
#7 Marvel at your creation and hope customers will use it!