Keeping it Festive: Tips for Creating A Fabulous Holiday Party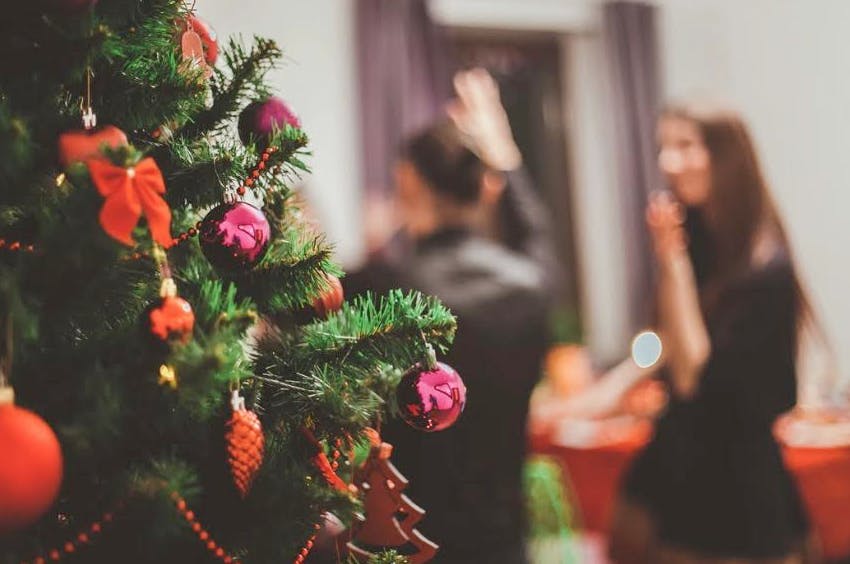 The holiday season is upon us; which means…lots (and lots) of holiday parties. If you can't afford to splurge on a catering company, we are gifting you some simple tips and techniques to make your party extra special. From Christmas parties, to corporate holiday festivities, it's important to keep the holiday spirit up. The holidays, much less planning events for the holidays, can add stress and pressure to an already stressful time. Not to worry, Between the Bread is here to help.
Pro tip #1: Maintain flow in the room
We all know what its like to feel stuffed into a crowded room, unable to mingle, waiting on long lines to get to the bar, touching elbows with every Tom, Dick and Harry in the room (even when you'd prefer not to). So creating an element of flow through the intentional placement of party décor (tables, bars, flowers, etc.) is key.
When people first enter a party, they scan the room and their eyes tend to migrate towards the bar. That's why bar placement it is imperative. It's ideal to place the bar deeply set into the room and away from places the will crowd easily like doorways. When you place the bar in the back of the room, it not only creates more space for people to co-mingle but also draws them into the party instead of lingering near the entry way and blocking the flow.
Another way to maintain the flow in the room is to add high-top tables to your space. They take up less physical space (without seating) and allow people to put down their food and drinks while still chatting and feeling interactive within the party setting.
Pro tip #2: Draw the eyes up and towards the food
The second thing people will gravitate towards is the food setup. If it is not a sit-down meal and you are doing a buffet-style party, the placement of the food tables is also important. You want to find a space that is clearly visible but again, doesn't block any doorways, bathroom entrances, etc.
The décor of the food tables will add another special element to your event. If you keep the food tables festive, you will draw people to the food you are serving. Now, there are multiple levels and layers of food décor to consider. The first layer is of the food tables are tablecloths. Choosing festive and fun tablecloths is a great way to add an aesthetically pleasing glint to your space.
Next is table décor, think garlands, ornaments, candles, nutcrackers, etc. These simple decorations will add dimension and an eye-catching aesthetic to your food tables (its all in the details).
Again, to avoid crowding around the food tables you may want to consider passing hors d' oeuvres to your guests. When it comes to this tasty little treats, make sure they aren't messy, are always served with a napkin and won't fall apart in your clients' hands (this can lead to an embarrassing exchange and messy cleanup).
The next level of food décor is using risers, which are fairly simple and straightforward but are also an important component when placing your food high above the table level and in clear sight. This makes the food itself easier to access and easier for your guests to see what is being served.
The final layer to table settings are the taller items such as flowers, vases, branches, lights, etc. These will continue to draw your guests eyes up to the food and are a great touch in making the space feel festive and spirited (never underestimate the added beauty of well-chosen floral arrangements).
Lastly, a great and savory touch to any party is designing a dessert table with an array of multi-tiered dessert platters. This table is best served in a corner of the room because it is generally where people will gravitate to last but, for that reason you can really make these tables a memorable part of your event. Think holiday cookies, pies, mini-cakes, brownies, gingerbread, etc.
Pro tip #3: Create Ambience
There is nothing worse than attending an event that seems dull or even silent. Playing some light and well-chosen music in the background of an event is an effective way to help liven things up. You want to avoid playing the music too loudly (so that your guests can't hear one another) but just loud enough to allow for a lively and pleasing background noise. (We love Christmas music and there is such a vast array of it). Lighting is also key here. No one likes a starkly lit party that feels corporate. If you're able to dim the lights or bring in some extra lighting that is less harsh, we'd highly recommend it. You can definitely utilize Christmas light in this arena, which are of a vast variety and can be done in a beautiful and classy way.
And if we are running along the lines of Christmas and Christmas décor: its all about color and sparkle, sparkle, sparkle. Think twinkly lights, colorful tree ornaments, decorative garlands, beautiful candles, gingerbread houses, snowmen, Santa hats, pinecones, even a Christmas tree (if it is in your budget and your space is large enough). You can get really playful and creative here.
There are infinite options when it comes to creating a holiday event but its best to keep with a theme, whether it is a color pallet or décor selection. More is more at Christmas but an event spilling over with decorations can be a bit much.
The most vital element to creating a festive and memorable party is to keep it fun, spirited, classy and original. Unique mixed drinks are a fun addition, for example. Making sure your guests are happy, well fed and have easy access to a bar is a must. And try not to stress, after you have crossed your t's and dotted your i's be sure to have yourself a great time!