Between the Bread's Jon Eisen Goes Back to School to Teach Students Some Healthy Snack Alternatives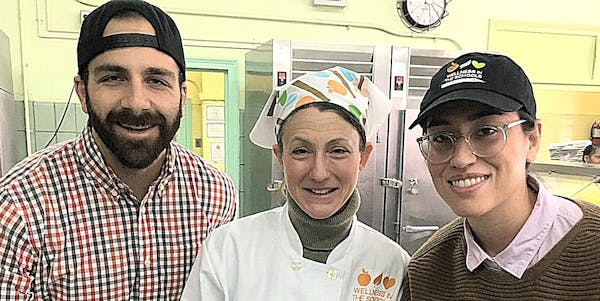 By Between The Bread on Mar 27, 2017
How to prepare healthy afterschool snacks was the lesson of the day when Between the Bread's Jon Eisen and Victoria Rolandelli recently visited PS 87 on the Upper West Side. As part of Wellness In The School's Cook For Kids Program, they threw on their aprons and had a food tasting for over 700 K-5th graders. The menu consisted of homemade purple potato chips, pickled watermelon radishes, and a strawberry banana smoothie to wash it all down.
"It was great fun showing the students how to create these simple snacks. And we were able to explain to the kids that these snacks not only taste great – they are healthier than store-bought potato chips and caffeinated sports drinks," said Eisen.
Between The Bread is a partner with Wellness In The Schools, a non-profit that inspires healthy eating, environmental awareness, and fitness as a way of life for kids in public schools.
The students had a great time and, ever since BTB's visit, students, parents and teachers alike have been asking us for the snack recipes, so we've decided to post them here so everybody can try them out.
Strawberry Banana Smoothie
1 banana
1 cup strawberries
1 tablespoon honey
3/4 cup almond milk
1 cup ice
1 dash vanilla
Blend until smooth
Note: You can also add some almond butter for a bit more thickening and sweetness.
Baked Potato Chips
One large baking potato sliced thinly (ideally with a mandolin)
Coat slices in a dash of vegetable or olive oil and sea salt.
Spread out onto a single layer on a baking sheet
Bake at 350 for about 30 minutes and let dry out
Pickled Watermelon Radishes
1 Bunch Watermelon Radishes, sliced thinly
2 Cups Vinegar, White, Distilled
1 Cup Warm Filtered Water
TBSP Kosher Salt
5 TBSP Granulated Sugar
1/2 teaspoon whole mustard seeds
Place all ingredients except for mustard seed into a bowl and whisk thoroughly until the liquid turns cloudy. Repeat two more times until liquid is almost clear.
Fill a glass jar or any sort of clear sealed container, with the radishes and mustard seeds.
Add liquid mixture to the jar, ensuring that the radishes are all fully submerged in the liquid.
Seal and gently shake, then let sit refrigerated overnight.
Radishes should be sweet and salty, but most importantly the radishes should be very soft, relaxed and flexible.
Prep time: 10 minutes/Shelf-life 20-30 days (liquid can be reused a maximum of three times)
In addition to running more cooking demos at PS 87, Between The Bread is also planning a special field trip in which the students will visit one of our eatery kitchens.